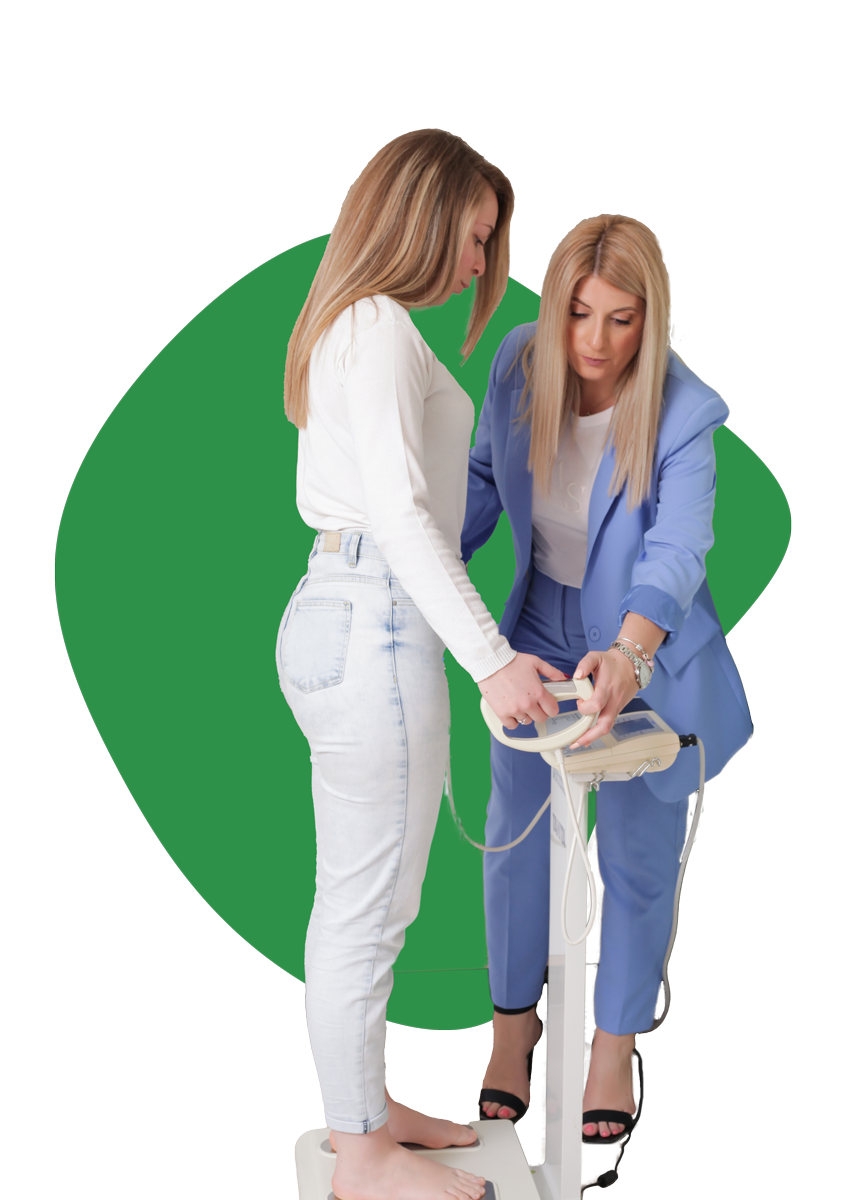 I am a Dietician-Nutritionist, licensed to practice and I was born in Thessaloniki in 1982.
I am a graduate of the Department of Nutrition and Dietetics of the Faculty of Food and Nutrition Technology, ATEI Thessaloniki.
My thesis was evaluated with an excellent 10 and was about "The development of an easy tool for the nutritional assessment of Greek seniors".
I hold the Master Practitioner in Eating Disorders and Obesity, in the eating disorders of children and adults, from the Center for Education and Treatment of Eating Disorders of M. of Britain which is under the auspices of the British Psychological Association.
I am a Nutrition Coach from Aegean College with certification from "The International Authority for Professional Coaching and Mentors IAPC&M.
I am qualified in Sports Nutrition for Performance Maximization by ISSN (International Society of Sports nutrition).
I also have a specialization in Clinical Nutrition from the continuing education and training center of the National and Kapodistrian University of Athens.
I have attended tutoring courses on Atherosclerosis and the risk factors, prevention & treatment of cardiovascular diseases organized by the Atherosclerosis Society of Northern Greece, obtaining a specialization certificate.
I continue my education and have attended seminars on Infant and Child Nutrition, Intestinal Microbiome, Cancer and Nutrition, Nutrition for Thyroid Diseases, Cholesterol, Celiac Disease, Kidney Failure and Diabetes.
I have been working in the field of nutrition since 2007, successfully handling numerous cases related to nutrition:
obesity
pathological conditions
digestive diseases
eating disorders (anorexia, bulimia nervosa, orthorexia)
pregnant women
athletes
breastfeeding women
children
From 2007-2010 I collaborated with the beauty center Beauty Harmony and also with the gym Gym 4you.
In May 2010 Dietmethod was created in Ampelokipis Thessaloniki.
From 2014-2018 I was an external partner of the Macedonian Neapolis football-basketball-volleyball academy, undertaking the nutritional education of the academy's children through interactive activities.
In the 2017-2018 season I collaborated with the football academy Ethnikis Meteoron and also the basketball academy Meteorites with the aim of introducing children to a healthy way of eating.
Also in 2017, a collaboration with the Lingo foreign language schools began with the aim of educating children on nutrition issues, with my participation in the Healthy Little Eaters movement and my designation as an Ambassador of this movement.
In 2018, a special 1st Nutrition Workshop in Thessaloniki was created in my office, focusing on nutrition education for children aged 4-12 years.
In 2018, together with my colleague Markella Bairaktari, we created the program "I learn the secrets of nutrition by playing" which was presented in daycare centers, kindergartens and schools in Thessaloniki.
This school year saw the creation of the nutrition education program "Eat, Play, Learn with Nutrition Heroes".
He is a member of the Union of Dietitians-Nutritionists of Greece and the Institute of Nutritional Studies and Research (IDME).
Don't hide the beauty you have inside…
I firmly believe that nutrition is the path to self-improvement. Through physical change you can meet and discover the best possible version of yourself.
In our dietetic office we design your nutritional treatment individually based on your lifestyle, personality, character and personal needs. Let's become fellow travelers on the journey of balanced and proper nutrition.